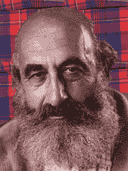 Danny Bermant recalls what a great whisky lover Chaim was.
Daddy was not only a whisky connoisseur, but also enjoyed drinking with friends. He was a regular member of the Hampstead Garden Suburb Beth Hamedrash (Synagogue) which was famous for it's whisky. Every Sabbath, there would always be an occasion to commemorate with a kiddush (festive meal), whether it was someone's Yahrzeit (annual commemoration of a relatives passing), someone's birthday, or a wedding anniversary. Never mind how many bottles of whisky there were to go round, every bottle would get drunk! The quality of the whisky consumed would always depend on the generosity of the Synagogue member sponsoring the kiddush. One week, you could expect a 12 year old malt, and on another, you might be unlucky enough to get Tesco's own brand. But there was one exceptional week when there was no kiddush at all, and I feared as to whether Daddy would make it home!
Apart from drinking with friends, Daddy was a regular visitor to the Pub. He used to walk daily to the Five Bells (in East Finchley, London), and later to the Old White Lion. He would always take a paper with him, and was the only patron allowed to bring his own sandwiches (as the jewish dietary laws meant he could not eat the pubs food). He found the walks to the Pub therapeutic, and would often come back with fresh ideas for writing.
Apart from his walks to the pub, we would often go as a family on country walks. The walks would always include a couple of pubs along the way, and Daddy made sure we visited every one! Over the years, we walked in Sussex, Surrey, Dorset, Herfordshire, Berkshire, Wales and in Essex. With all the walks weve done, Daddy could have written a book of pub walks!
Over the following weeks, I hope to add some of the pub walks we used to take, (and also some of Daddys' favourite whiskies!). You'll be able to follow in Chaim's footsteps!
Watch this space!