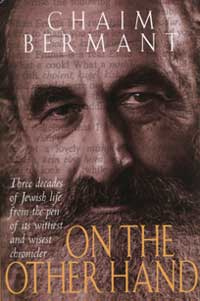 Chaim Bermant liked to describe himself as the Jewish Chronicle's "licensed heretic" and he came to regard "On the Other Hand" his weekly column in the paper, as his pulpit. His topics covered matters spiritual and not so spiritual. He wrote with wit and insight on subjects ranging from Israeli politics, war criminal trials and political correctness in the Church of England, to mad cows, kosher pigs and semitic cats.

The long awaited compilation of Chaim's memorable Jewish Chronicle articles was launched on Thursday 11th May 2000

The book went on sale from Thursday 1st June and is available in all good book shops.

It is also available online from Amazon.